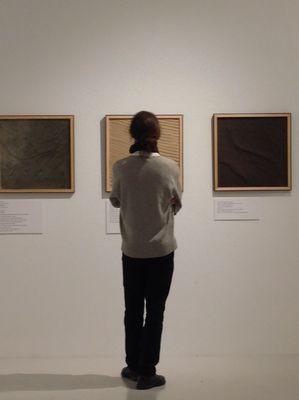 ■
Standing in that grove in my hometown,
the moonlit night clear beyond branches like arteries,
the flowing black clouds and blinking stars are cold, silent.

Tokyo skies at night are a low gray.
Rows of buildings chopped into blocks
transform the sky into a huge canvas
onto which I can draw, redraw my images.
A lonely sky, only the moon up there,
or a red-blinking sky lined with buildings.
To me, both skies are beautiful.
故郷の樹林に立ち、
血管のような枝越しに見る月夜は透明で、
流れる黒雲とまたたく星は、音無く冷たい。
都心の夜空は灰色低く。
直線で区切ったビル群が
空を大きなキャンバスに変え、
私はそこに何度でもイメージを描ける。
月だけが浮かぶ孤独な空、
ビルが連なる赤い点滅の空、
どちらの夜も私には美しい。
■
The soil of so many colors I searched my hometown for.
But they weren't worth anything to me.
Once I almost gave up on making my very own wall.
What brought me back from the edge was Tokyo.
I spent ten years in Tokyo.
And beyond Tokyo – a place seen way in the distance.
That would be New York.
I'm here now, standing in New York.
Standing on the edge of yesterday's tomorrow.
故郷で探したいろんな色の土たち。
けれどそれらは必要とされなかった。
私は、自分の壁を一度、諦めようとした。
その私を拾い上げてくれたのは" 東京 "。
そして、東京で10年生きた。
東京の先、ずっと遠くに見えていた場所、
それがニューヨーク。
私はいま、ニューヨークに立っている。
あの頃の未来に立っている。
(英訳 ロバート・キャンベル氏)