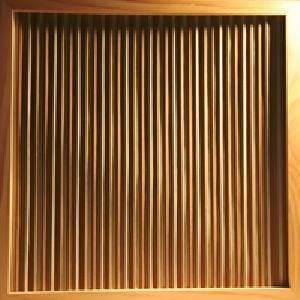 ■
When a light shines on an earthen wall
the rays get absorbed once, before becoming reflected,
and likewise shadows get absorbed before emerging.

The light, shadows and air in a space
wrapped in earth like this are gentle.
However you try to stage light and shadow
on surfaces made from synthetic materials and pressed,
the light will reflect sharply, and shadows falling will have sharp edges.
土壁に照明が当たると
光は、一度土に吸い込まれてから反射し
影も、一度吸い込まれてから現れる。
そんな土に包まれた空間は、
光も影も、空気も柔らかだ。
どんなに光と影を演出しても
化学合成したもの、機械的に圧縮した面は
光を鋭利に反射し、鋭利な影を落としている。
■
How many times have I heard this kind of talk
standing in front of my own work?
"What sort of pigments do you use?" They'll ask, so I respond
"No pigments. The colors are straight out of nature."
"Did you cut this out and paste it together after drying?"
"No, I just mixed soil and water, and plastered it right here so it could dry."
"Do they get damaged when something bumps into them?"
"They're neither baked nor chemically hardened, so yes, damage occurs."
Whenever I say this, I get in return:
"But can't you make them a bit harder and more beautiful?"
Conversation like this really wears you down.
Don't they know a wall's softness is what makes it so gentle,
and that weakness is precisely what causes its beautyl?
これまで、私の作品を前にこんな会話を
何度繰り返しただろうか。
「どんな顔料を使いましたか?」と聞かれて
「顔料ではなく、自然そのままの色ですよ・・・」と答える。
「固めて切って貼りつけたのですか?」
「いいえ、土と水を混ぜて、この場で塗り、乾いているのです」
  
「物が当たると傷つきますか?」
「焼いてもいないし、化学的に固めてもいないから傷つきます」
すると、
「もっと固く美しくできませんか?」と返ってくる。
こんな会話に、疲れてしまう。
彼らは、そのやわらかさが優しさだと、
その弱さが美しさだと、わからないのだろうか?
(英訳 ロバート・キャンベル氏)