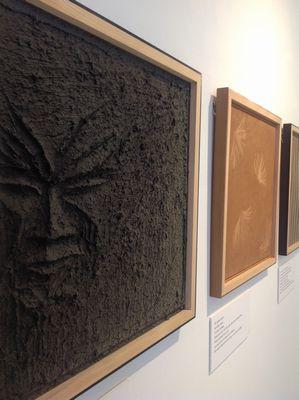 ■
If you gather sun rays and burn them,
maybe you'll get gold.

If you gather moon rays and freeze them you'll get silver,
and if you pound dry leaves and let them rot you'll come up with copper.
Then by mixing smoke with the rain, you get iron,
by cutting the blustery wind with a sharp sword,
water will overflow.
…… and all of these things, to fall upon the soil.
陽の光を集めて燃やせば、
たぶん金が生みだせ
月の光を集めて凍らせれば銀ができ、
枯葉をたたいて腐食させると銅になる。
そして、けむりと雨をまぜて鉄を生み出し、
    
強く吹く風を鋭い太刀で切ったなら、
水がこぼれる。
・・・これらが全て土に降る。
■
I was laughing, out of breath,
sprawled on the grass,
narrowing my eyes to chase the flowing clouds.
As I pressed my cheeks into the sand, the sound of hopping footsteps.
A rugged surface of ground.
Through a fierce rainstorm
I ran, chest thumping.
What was I feeling back then?
…… Suddenly – a bit of the smell revives.
That white flash you get as you turn off the lights.
Through that one blink too,
the smell of back-then passes by.
…… In a dream,
if only I could ask myself what it was I felt
as I was flying around.
息を切らして笑い
草の上に寝転がって
目を細めて流れる雲を追っていた。
砂に頬を押しあてて
跳ねる靴音。
地表の起伏。
激しい雨の中、
胸を高鳴らせ駆け抜けた。
あのころ、何を感じていたのだろう。
・・・ふっと少し、匂いだけが蘇る。
明かりを消して見る、まばたきの白さ。
そのまばたきの中にも
あの頃の匂いが通りすぎているのに。
・・・夢のなかで、
はしゃいでいた自分から
感じたことを聞きだせたなら・・・
(英訳 ロバート・キャンベル氏)