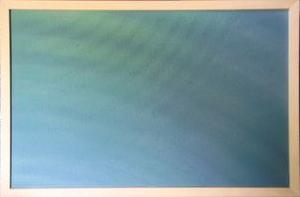 ■
Design
The Plastic Arts
Painting
Arts and crafts
…………….

Figurative
Abstract
I don't understand the difference between these words
or to which category I belong.
I just hope my work stays close to nature,
and that whatever I make with my own two hands
will dry in the wind, get washed in the rain
and morph along with nature.
In other words, for my materials to move naturally,
to get reborn in time.
That's the kind of art I'm aiming for –
hands inspired by nature.
デザイン
彫塑
絵画
工芸
・・・・・・
具象
抽象
私にはその違いも
私がどれに属するかもわからない。
ただ、作品が自然に近くありたいと思う。
自分の手で形づくったものが
風に乾いたり、雨に洗われて
自然のなかで移りゆく。
すなわち、素材が自然に動き、
時とともに生まれ変わること。
それが私の目指すアート。
HANDS INSPIRED BY NATURE
■
Patterns of wind on a sandy beach, ripples on a lake……
before these things I feel helpless.
Limitless shapes born from water and the wind.
The more I strive to form them from my own two hands,
the further they slip away from the shapes of nature.
Then suddenly it hit me.
It's not my hands that are making the whole form.
First I form the wall from my hands.
Then as nature's processes unfold and mesh,
the work is born.
Between my hands and the work, natural processes exist.
砂浜の風紋、湖の水紋…
私は、それらを前に無力感を抱く。
水と風が生み出す無限の形。
私の手で、これらを作ろうと努力すればするほど
自然の形から、かけ離れてゆくからだ。
あるとき私は知った。
私の手が直接、完成形をつくるのではない。
まず私の手で形づくる。
そのあと自然現象が起こって噛み合ったとき、
作品が生まれるのだ。
私の手と作品の間には、自然現象が存在している。
(英訳 ロバート・キャンベル氏)